Microneedles are inserted into the skin layers with the help of a motor that moves a needle module up and down at a high frequency. The length of the needle is adjusted based on the indication and treatment area. The needles are typically 0.5 to 2.5 millimetres in diameter and are used to promote collagen induction and skin rejuvenation. The needles penetrate the skin's surface levels and are used to increase collagen, reduce texture and scarring, fine lines and wrinkles, and promote the proliferation of new, healthy skin cells. For decades, this procedure has been used to reduce fine lines, wrinkles, scars, and texture.
A pen-like device with several tiny needles in the tip is moved over the skin during micro-needling, and the needles gently penetrate below the skin's surface. This stimulates the skin's natural healing response, increasing collagen production to improve skin strength and structure and tighten visible signs of ageing.
To help optimise results, the micro-needling process opens up the skin and allows it to better absorb products and serums. Hyaluronic acid is a naturally occurring compound in the body that, when absorbed into the skin following micro-needling, can help to smooth and tighten the skin by adding volume to visible signs of ageing. This special serum is also used to lubricate the skin during treatment, increasing client comfort while nourishing the skin with hyaluronic acid.
Duration
It takes 1 hr 15 mins for the appointment.
Price
The price is $250.
* Package discounts available!
Deposit
We require a deposit of $50.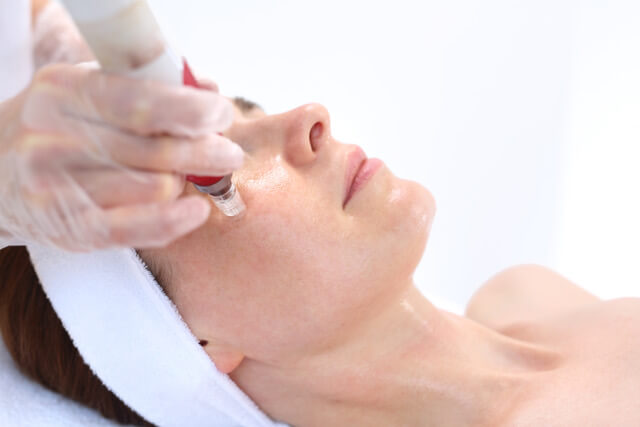 Frequently Asked Questions
Here you can find answers on frequently asked questions. If you cannot find the answer, feel free to contact us via email or phone.
Fine lines and wrinkles, hyperpigmentation, acne scars, traumatic scars, and stretch marks can all be significantly reduced and improved with micro-needling.
We will first apply a numbing cream to the skin to ensure a comfortable and pain-free treatment. After that, a thin layer of topical gel is applied, and the pen is gently pressed against the skin while gliding in one direction until the entire treatment area is covered.
Patients immediately notice a "glow" to their skin. Skin changes become visible over the course of several days and weeks. As collagen production continues, results can improve for up to 6 months after treatment.
To achieve optimal results, some patients only require a single treatment once a year. Most patients, however, should receive a series of 3-4 treatments spaced about 6-8 weeks apart. It is recommended that patients with deep wrinkles, advanced photo-aging, stretch marks, or acne scars receive 6-8 sessions at 6-week intervals.
Because the epidermis is not damaged during treatment, medical microneedling is suitable for all skin types and colours. The possibility of pigmentation change or post-inflammatory hyperpigmentation is low. Skin microneedling can be used on sensitive and fragile areas that are difficult to treat with other methods. Microneedling is not recommended for patients who have used Accutane (isotretinoin) within the last three months, have open wounds or cuts, have had radiation skin treatment within the last year, have a skin infection, condition, or herpes simplex in the area of concern, are pregnant or breast feeding, have a history of keloid or hypertrophic scars, or have poor wound healing.