This is a technique of depositing pigment between your lashes along the lash line, this permanent makeup procedure enhances your eyes. Apply to the top and bottom lash lines, or choose one for a more subtle or dramatic look.
At your first appointment, we'll determine the best shape for your eyes, whether that's a fine, barely-there lash line contrast or a bold winged eyeliner. Your initial appointment will last about 60 minutes, followed by a second 60-minute touch-up appointment in 6-8 weeks. Both appointments are included in your quoted price, and the results can last anywhere from 1 to 5 years before requiring another touch up.
The outcome and longevity of your tattoo will be heavily influenced by how you care for your eyes during the healing process and afterward. Each client's skin will react differently, both in terms of how long it takes to heal and the number of sessions required to achieve the desired results and colour retention.
We offer 3 different Eye Liner options: Lash Enhancement Tattoo,  Classic Signature Winged Liner and Smokey/Stardust Liner.
Duration
It takes 2 hours for the appointment.
Price
Lash Enhancement Tattoo - $150
Signature Winged Liner - $200
Smokey/Stardust Liner - $250
Deposit
We require a deposit of $50.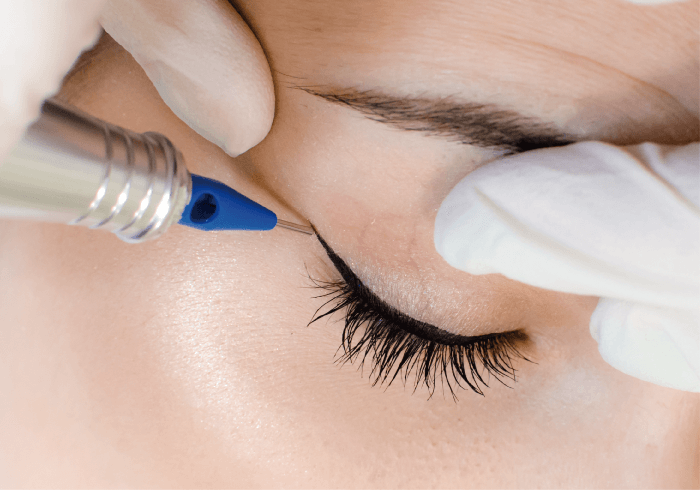 Frequently Asked Questions
Here you can find answers on frequently asked questions. If you cannot find the answer, feel free to contact us via email or phone.
No. It has nothing to do with hair loss. Because the pigment does not penetrate deeper than the first layer of skin, the needle does not come into contact with a hair follicle.
Because it is near the eyes, most people experience some discomfort. This will vary depending on each person's pain threshold.
We want you to be as relaxed as possible during your experience. Before and during your procedure, we will apply a topical numbing cream We cannot predict how you will feel because pain tolerance and sensitivity vary from person to person, but we will check in on you frequently during the experience. The procedure uses a smaller needle than traditional tattooing and should be much less painful. Clients have reported an average pain level of 3 out of 10.
With proper care, the "tattooed" eyeliner typically lasts about 2 - 3 years. However, the pigment will fade over time. Many clients return after about a year for touch-ups.
If you eventually decide you don't want the eyeliner, it can fade completely in one to three years. Because everyone's skin absorbs pigment differently, it's difficult to predict how long it will take for the liner to fade.
Eyelids may be puffy, similar to what you have after a good cry. Do not curl your
lashes or apply mascara for at least 1 week. Your tattoo will look darkest for the first
few days, then scab or peel, realizing their actual color once fully healed within 3-4
weeks. Always keep your eye area clean and apply a moderate amount of aftercare
ointment. Avoid getting foundation/concealer or other makeup on your eyelids as it
will dull the tattoo.
Eye Liner is not suitable for anyone who is/or:
Pregnant

Breastfeeding 

Using Accutane

Has heart conditions or using heart medications

Has diabetes (will require a physician's note)

Has skin disease or irritations 

Has had Botox in the last 2 weeks

Has gotten a deep tan or chemical peels in the last 2 weeks

Allergic to lidocaine, prilocaine, benzocaine, tetracaine or epinephrine

Suffering from serious health complications such as cancer, epilepsy, autoimmune disorders, circulatory disorders, any bleeding disorders.