Microblading is a technique used to manually (microblade) or use machine (nano) to create tiny hairs throughout the entire brow to mimic your natural hair using disposable micro blade. This helps in achieving an overall fuller natural brow.
This method is ideal for people with normal to dry skin who want to look younger because the simulated hair strokes heal and stay crisper on these skin types. Clients with porous and oily skin will benefit more from the combo brow or ombré powder technique, as microblading alone will heal more powdery or blurry due to the skin's excess oil production. Some of these customers are still churning.
Touch-ups are recommended on a regular basis to keep your brows looking good after microblading. Clients typically return every 1-2 years for a colour boost to maintain the shape and saturation of their brow tattoo, which will naturally fade over time. Fading is actually beneficial because it allows you to tweak or change the shape of your brows as trends change or you want to adopt a new look.
Duration
It takes 1.5 hours for the appointment.
Price
The price is $270.
For a Touch-up is $130.
Yearly Touch-up is $165.
Deposit
We require a deposit of $50.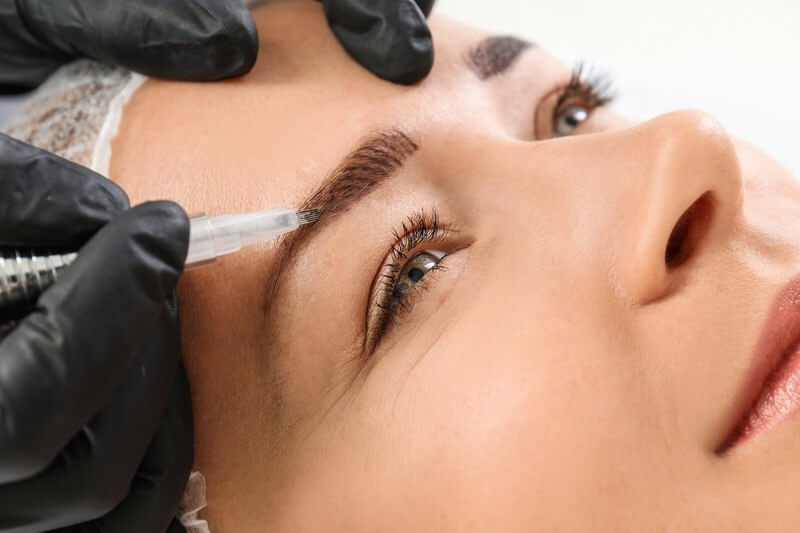 Frequently Asked Questions
Here you can find answers on frequently asked questions. If you cannot find the answer, feel free to contact us via email or phone.
After the procedure, the brow area will be slightly red, and the colour will appear very dark. This is expected for the procedure and is part of the healing process. As it heals, the colour will fade by up to 40%. The brows will remain dark for a few days, and you will notice some scabbing. It takes 7-14 days for the brows to heal and about a month for the colour to fully set in.
We take every precaution to make the microblading procedure as painless as possible. To keep you as comfortable as possible during the procedure, a strong topical anaesthetic cream is applied prior to and during the procedure. Some clients report minor discomfort during the procedure, while others report no discomfort at all.
To keep the colour vibrant, we recommend yearly touch-ups. It varies from client to client, but it can range from 9 months to 2 years, depending on the skin type and lifestyle of the client.
For the first 2 days, do not allow your newly microbladed eyebrows to come in contact with water.

We provide you with some Vitamin A & D ointment for you to take home and apply every 2-3 hours as needed for 7-10 days. Any redness or irritation will subside within 2 hours of completing your appointment.

Please remember the first 7 days will NOT reflect your true final result as the pigment has not yet peeled completely so they will look dark.

Things to avoid while healing: Tanning (UV exposure), Swimming, Saunas, Hot tubs, Gymnasiums or any activity that may cause you to sweat excessively.
Microblading is not suitable for anyone who is/or:
Pregnant

Breastfeeding 

Using Accutane

Has heart conditions or using heart medications

Has diabetes (will require a physician's note)

Has skin disease or irritations 

Has had Botox in the last 2 weeks

Has gotten a deep tan or chemical peels in the last 2 weeks

Allergic to lidocaine, prilocaine, benzocaine, tetracaine or epinephrine

Suffering from serious health complications such as cancer, epilepsy, autoimmune disorders, circulatory disorders, any bleeding disorders.