High Frequency Facial (add-on)
High frequency is a treatment method that uses concentrated thermal energy to treat acne, fine lines, wrinkles, enlarged pores, cellulite, and undereye circles. High frequency treatments for anti-aging purposes stimulate cell renewal and circulation, which stimulates collagen production and improves skin care product penetration and absorption. For acne and congested skin, applying a high frequency current to the skin kills bacteria and reduces inflammation, which aids in the treatment of existing acne and the prevention of new acne.
The treatment employs a glass electrode that emits a small electrical current while producing either argon or neon gas. The glass device makes a buzzing noise and emits a glow, the colour of which depends on the gas used – neon gas emits a red-orange glow, whereas argon gas emits a violet blue glow. Neon gas is used to rejuvenate the skin, whereas argon gas is used to treat acne and oily skin.
After cleansing the skin, the glass electrode is placed on it and worked in a circular motion all over the face. Facial gauze is sometimes used to help with a smooth glide. During this time, you may experience a slight tingling sensation that is completely manageable – the treatment may take up to 20 minutes.
It is typically used to treat the face and neck, but it can also be used as a spot treatment (the electrode is placed over the affected area for 1-3 minutes), on the chest or back, or as a hair-boosting treatment with a comb-shaped head.
Duration
It takes 20 mins for the add-on.
Price
This is an add-on to any Facial treatment you choose. It is an additional $25.
Deposit
The deposit will be applied to your Facial treatment. It will be $50.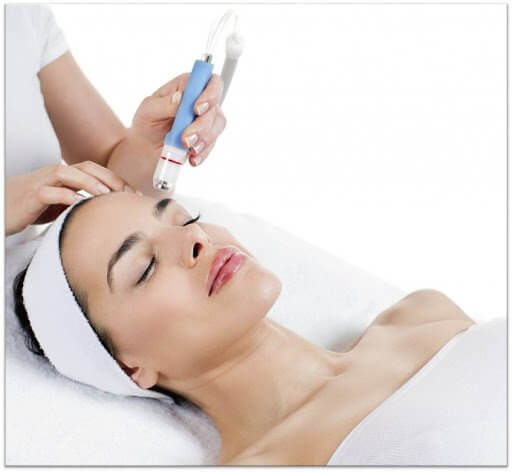 Frequently Asked Questions
Here you can find answers on frequently asked questions. If you cannot find the answer, feel free to contact us via email or phone.
When a high frequency current is applied to the skin, it has cleansing, antibacterial, and restorative effects that improve a wide range of conditions after just one treatment. High frequency facials, for example, may help with:
Acne
Fine lines and wrinkles
Sagging skin
Enlarged pores
Puffy eyes
Cold sores
No! The majority of patients report a slight tingling, buzzing sensation, which is often a relaxing end to your facial treatment. Because the heating is so gentle, you should have no discomfort.
Because high-frequency therapy is so versatile, it can be combined with nearly all of our specialty skin treatments. We especially enjoy incorporating high-frequency into our custom facials, whether as an extra skin clarification step after a HydraFacial or as part of a back facial to reduce "bacne."
However, high-frequency treatment is not always appropriate. For example, if you have extremely dry skin or have recently completed a resurfacing treatment (such as a chemical peel or laser), using high-frequency may be too drying. We would then suggest alternative options to meet your objectives.
High frequency is a painless and gentle procedure that requires no downtime. For 48 hours after the treatment, you must protect your skin with moisturiser and sunblock, and you may experience mild redness and peeling.
The production of enriched oxygen molecules between the electrode and your skin has an antibacterial effect as well as a slight warming of the tissues, which helps push toxins away, increase blood circulation, and prompt cellular renewal.