Dermaplaning does far more than simply remove hair from the skin. It's a skin treatment that exfoliates dead skin cells and fine facial hair with a surgical blade in a gentle and safe manner. As you remove the hair and dead skin cells, you'll notice that your skin appears brighter and softer. It also provides an ideal canvas for flawless makeup application and aids in the penetration of treatment serums into the skin.
The process of removing dead skin cells and exfoliating the top layer of the epidermis stimulates the deeper layers of the skin and initiates the cell regeneration process. This procedure stimulates the production of collagen in your skin, resulting in improved skin firmness, tone, and texture. The removal of keratinized (dead) skin cells allows products to penetrate skin more effectively and treat an individual's skin care concerns.
Dermaplaning is also useful for removing excess fine hairs from the face, which can collect dirt and oil and impede the smooth application of product/makeup. Exfoliation of dead cells, as well as removal of fine hairs, results in healthier, brighter skin with a smoother appearance and feel.
Duration
It takes 1 hr 15 mins for the appointment.
Deposit
We require a deposit of $50.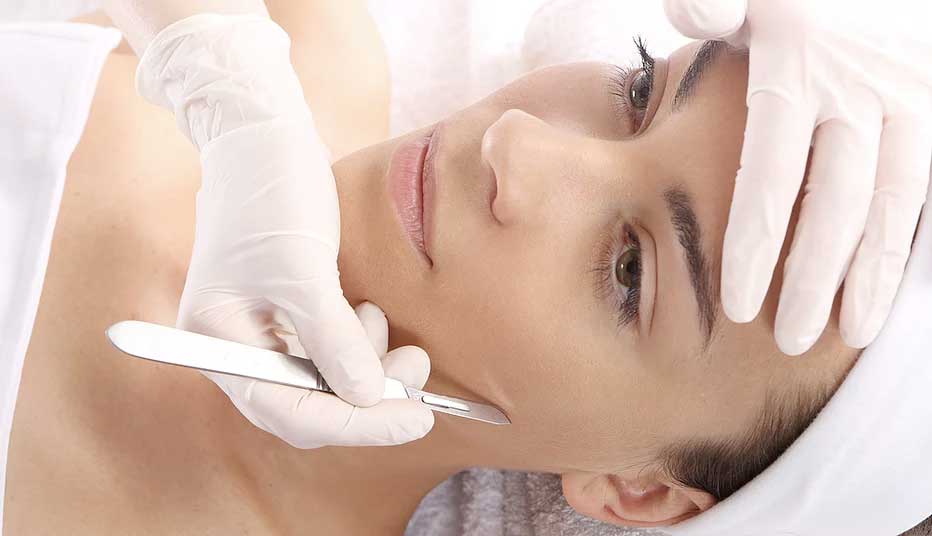 Frequently Asked Questions
Here you can find answers on frequently asked questions. If you cannot find the answer, feel free to contact us via email or phone.
It can help with scarring from injuries or acne, fine lines and wrinkles, and uneven skin tone. It also aids in the reduction of pores and tightening of the skin. It's almost like going back in time. Everything simply appears smoother, firmer, and younger as a result.
Immediately! There is no downtime, and your skin will glow immediately following your treatment. Your make-up will look flawless, and your products will penetrate much deeper into the skin.
We recommend coming in every 4 weeks to maintain results and see improvements in overall skin tone and texture, which aids in the reduction of fine lines and pore size. Because the effects are cumulative, your skin will continue to improve with each visit.
Avoid touching your freshly treated skin with dirty hands after dermaplaning, as this will spread unwanted bacteria onto the newly exposed skin cells. Avoid strenuous workouts, saunas, and steam rooms for at least 24 hours after the facial. For at least 24 hours, avoid direct sunlight and tanning beds. Because your skin is especially sensitive to UV rays, SPF is your best friend! Moisturize frequently and thoroughly.
Although dermaplaning is safe for all skin types, it is not recommended for people with keratosis, undiagnosed lesions, active rosacea or acne, weeping acne (stages 3–4), diabetes, auto-immune disorders, fragile capillaries, eczema, dermatitis, psoriasis, or lupus.