This is a technique that inserts colour pigments into your lips, giving it a end result of a sheer lip stain and appearance of a full natural pout. Colours range from pinks to coral to vibrant rouges.
Using a cosmetic tattoo device, small needles, and a soft press, we layer the desired colour pigment into your lips. Because of the thin layers that are gradually coloured over the lips, the result is subtle. The more pigment we layer, the denser the results will be. This pigment layering technique enables us to create a variety of Lip Blush styles, ranging from a soft and natural colour that resembles a lipstick to a bright and bold colour that resembles a lipstick.
Lip blushing can last for several years, depending on your lifestyle; smoking and sun exposure can hasten the fading process, and if you have an iron deficiency, or use a lot of exfoliating products in your skin care routine, the pigment may fade faster as well.
We also offer lip liner services.
Duration
It takes 2 hr 15 mins for the appointment.
Price
The price is $300.
For a Touch-up is $150.
Yearly Touch-up is $180.
Deposit
We require a deposit of $50.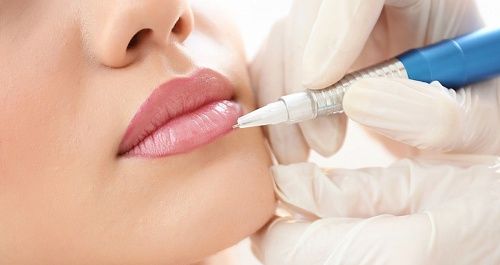 Frequently Asked Questions
Here you can find answers on frequently asked questions. If you cannot find the answer, feel free to contact us via email or phone.
Semi-permanent pigments will naturally fade over time. Sun exposure, skin type, general health, and immediate and long-term aftercare are all factors that influence the life of the implanted pigment. The results typically last 2-5 years or longer before requiring a touch-up to refresh the colour and shape. Those who smoke frequently or have iron deficiency anaemia may see their results fade faster.
The level of discomfort varies according to each person's pain threshold and sensitivity. A topical anaesthetic will be applied before and during your treatment to ensure your comfort. Please keep in mind that if you are in the middle of your menstrual cycle, you may be more sensitive to pain. Sleep, stress, and caffeine can all influence pain sensitivity.
You can return six weeks after your initial lip blush appointment for a touch-up to fill in any light or uneven spots. A fter touch-ups, the lip blush tattoo will last between two and five years. Because everyone's skin is different, the duration of the treatment will differ from one client to the next.
Aftercare entails not touching the area (picking, scratching, pulling) while it heals and may scab/flake for the first 7-10 days. Excessive sun exposure, water, perspiration (working out), skin care products, makeup, and exfoliation to the area are all important to avoid disrupting pigment and healing. On the day of the appointment, you will be given detailed aftercare instructions, as well as an aftercare kit containing specific healing ointment to maintain the health and longevity of your new lips.
Lip Blush is not suitable for anyone who is/or:
Pregnant

Breastfeeding 

Using Accutane

Has heart conditions or using heart medications

Has diabetes (will require a physician's note)

Has skin disease or irritations 

Has had Botox in the last 2 weeks

Has gotten a deep tan or chemical peels in the last 2 weeks

Allergic to lidocaine, prilocaine, benzocaine, tetracaine or epinephrine

Suffering from serious health complications such as cancer, epilepsy, autoimmune disorders, circulatory disorders, any bleeding disorders.